Back to school seems to also mean back to freezing this year. The temps have dipped pretty dramatically but at least there's the fashion.

This season's trends are wearable, fun, and far from drab, making the transition from summer to autumn just a smidge more tolerable for a sun worshipper like me. Here are 5 trends I'm loving this fall and where you might just find me scooping up the must-haves on my list:

#1 Seventies Sophisticate
I'm digging this season's 70s vibe that's a little more polished than hippie chic. Wide leg pants and longer hemlines are very forgiving but the number one piece I'm after is the perfect floppy felt hat and one of these options above from Club Monaco could be the winner.
#2 Navajo Girl
I have a love hate relationship with the very authentic looking ethnic prints that are just about everywhere this season. The bold colour draws me, but it's really easy to get costumey with such a loud statement. My personal compromise is to shop accessories that hint on the trend like this Ralph Lauren
messenger. Very navajo but not too over the top.

#3 Just Call Me Dot
Feminine prints including polka dots, Dolce & Gabbbana inspired stars, and bold winter florals are every where and though I probably don't need another girly blouse. I am in love with the pinkish plum shade of this sheer polka dotted bow blouse from Halston Heritage
. I found it online at Bergdorf Goodman but fingers crossed it'll make it's way to The Bay. I'm partial to dots but the prints for fall are very diverse so pick one that works for your personal style and run with it. Stars mix well with edgy looks and florals can be romantic, retro or mod, depending on the pattern.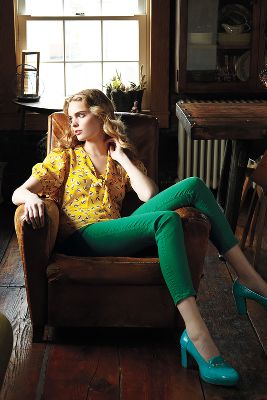 #4 Mrs. Green Jeans
Don't take me literally, because I'm not sure green is actually the colour I'll be going for, but interesting pants (read: no basic black trousers) are everywhere. Whether it's bold colour, an interesting silhouette, or both rolled into one, your pants can be the star of your ensemble which is nice for a change. Despite your strong urges to pull out something gray or black to go with, go for more colour, even if they're in muted tones. Mixing and matching jewel tones is a carryover from summer's colour blocking. I just love the palette that showcases these green cropped jeans from Anthropologie.
#5 Statement Coat
Last but not least, I need a coat. Well, no, I don't actually need a coat, but since we spend 80% of the winter covered up, why not have some variety right? There are so many fabulous shapes and colours this season, it's easy to imagine another one into your wardrobe. My current obsession is Canadian designed, alpaca coats by Sentaler. How gorgeous is this camel cape? It's absolutely an investment but seriously, what a statement.

Let the fall splurging begin!

-- Tamika Auwai is a fashion junkie, splurge-a-holic and founder of Shop Socials.
Image credits: Club Monaco, Halston Heritage, Ralph Lauren, Anthropologie, Sentaler.