The worst style crisis of my life was not in the early 90s when I obsessed over grungy plaid shirts paired with maroon denim or overalls (one strap down, obviously). It actually came three years ago when I was a brand new mom faced with the first fancy outing post-pregnancy. It was my husband's birthday and his dad was taking us to a very stuffy, award-winning, Italian resto. I probably took two good hours to pull something together but it was rough on my ego. After two months of wearing pants with elastic waists only, I had forgotten how to dress.

Tamika Gets Her Groove Back with Baby circa 2009
Figuring out how to dress your new *ahem* curves, can be a challenge for new moms. Especially since track suits or jammies are the obvious go to when you're sleep-deprived and caring for a new baby round the clock. Just in time for Mother's Day, I wanted to share five key pieces that every new mom needs. So, w
hether you're expecting, recently hatched, or just hoping to help a friend who might be going through this very turmoil after an invitation to brunch for Sunday, here's what your new Mom needs to reclaim some style this weekend:

Comfortable Shapewear
I'm sorry these do not look sexy. I'm also sorry they are reminiscent of granny panties. Just pretend you're Betty Draper and go with it. Wearing shapewear whether it's a tank, bike short or just underwear flattens out your tummy and may just get you back into a dress you wore pre-pregnancy. Spanx like these from Evymama.ca are great but I've also found success at Wal-Mart. The trick is to buy one size smaller than you'd wear in regular clothing. The other trick is to wear it under EVERYTHING. I'm not kidding!
The Loose, But Not Too Loose Dress
Unless you're a celeb who is paid to exercise and look fabulous a mere six weeks after giving birth, the thought of anything body con is frightening. This includes pants with zippers and buttons. I recommend sporting a flowy dress instead. Try tunics, shirt dresses or even this coral drop-waisted dress shown from Old Navy. These styles also work incredibly well with flats which is a plus. Tip: beware of low cut v-necks and be careful to pay attention to the fit. Wearing a dress that's way too big is not flattering and will actually make you look bigger.

The Boyfriend Jacket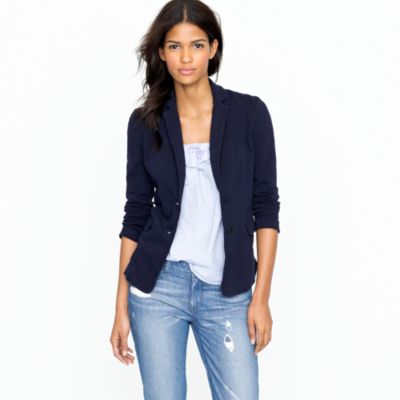 For dress-up that's more casual, I love the magic of a blazer like this one from J.Crew. Blazers just make everything look a little more polished. In most cases, you can buy or wear your old size since there's no need to button up. If you are buying for yourself (or a friend), go for one that's cut a little bit longer and wear with a breezy blouse underneath and your most comfortable jeggings, or with a tee and boyfriend jeans like the model.

There's a little style trick every woman should know that's so much more important when you're not 100% happy with some aspects of your figure. The right bold accessory can detract from any problem area you want to hide. If you're worried your milkshake might bring all the boys to the yard, don a big ole statement necklace, like this one from Kim Kardashian's Belle Noel collection, to keep eyes focused upwards. Or, if you've decided to go the blazer route, go with long pendant necklace to dress things up and create the illusion of a longer, thinner frame.
The Perfect (non-baby) Baby Bag
It is my humble opinion that no matter what you wear, it cannot and will n
ot ever look stylish if your "handbag" remotely resembles a baby bag. I carried one for a week, then upgraded to a winter white patent leather slouchy bag I bought the year prior. Try an oversized structured, neutral tote like this one from Danier. Go for zippered (so growing baby can't slip her hands in and steal your lipstick) and roomy so you can tuck your stuff in there along with hers.

Keep baby things organized with dividers, tupperware, cosmetic cases or whatever you can find inexpensively. Just ensure they are clear so you can figure out what's inside. Colour coded systems and baby brain do not work. Then grab a thermal pouch for a bottle and you're good to go.

For evening affairs you may consider carrying your own clutch alongside the baby bag. Unless your hubby is into sharing the load, re-think this idea or you'll just be lugging two bags.

See that? As easy as 1, 2, 3, 4, 5.

Happy Mother's Day to all Hip Urban & Haute Mamas. Cheers to looking fabulous!
-- Tamika Auwai is a fashion junkie, splurge-a-holic, and founder of Shop Socials.
Image credit: EvyMama.ca, Old Navy, J.Crew, Danier, Amazon